With so many holidays and events going on year-round, it's nice to have solid go-to gift options that you know people will use & love!! Whether it's for a holiday like Valentine's Day, or an event such as a bridal shower or birthday, Healthy Roots Hemp has got you covered with a wide range of CBD products that anyone can enjoy!!
Each Healthy Roots Hemp product has a unique use and purpose. Learning about the purpose of each product will help you choose a specific one (or more) that's perfect for the gift recipients in your life, and you may even discover products you'd like to pick up for yourself! Soon, you'll agree that CBD Makes the Perfect Gift!
Tinctures
Tinctures are an ingestible liquid form of CBD. Tinctures promote overall wellness and are an excellent addition to anyone's health regimen! You can take the product by simply using the dropper to drop it under the tongue, or you can drop it in your food or drink. Tinctures are especially great for people who have everyday aches and discomforts, or who struggle with daily feelings of stress. One of the many unique benefits of Healthy Roots Hemp Tinctures is that they taste great!! Many CBD tinctures have a bitter taste, but our formula is effective and delicious!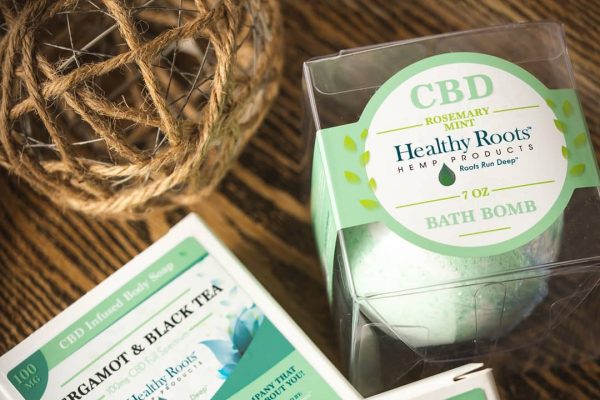 Bath Bombs & Soaps
Give the gift of ultimate relaxation! We all have that friend or family member who loves all things bath & body related- and boy do we have amazing treats for them!! We offer CBD Bath Bombs, and CBD Soap Bars that turn bath/shower time into the best part of the day! Our Bath Bombs have 50mg of CBD each; simply fill the tub with warm water, drop the Bath Bomb in, and feel the relaxing and rejuvenating effects. Our Soap Bars are each hand crafted and gorgeously scented with natural essential oils. They lather up incredibly and will wash aches away. These products will be a gift favorite for sure!
Facial Oil
Our Facial Oil is for the skincare junkie in your life; that person who is always looking for that next holy grail product that they will love for years to come!! It's created with 100mg of pure cannabidiol CBD and jojoba, rosehip, and vitamin E. This facial serum is incredibly moisturizing, without feeling sticky or heavy, and can reduce fine lines, wrinkles, puffiness, and redness.
Root Butter & Lotion
Our Root Butter CBD Muscle Rub is one of our best selling products, and for good reason! It's a Full Spectrum Topical whipped with almond, mango, and shea butters that melt effortlessly into the skin. It's made with 500mg of Full Spectrum Organic CBD Oil which soaks quickly into the skin to offer quick (5-10 min) & targeted relief from sore muscles, joint discomforts, and aches.
For lotion lovers, we have our Full Spectrum Cucumber Melon Lotion, which smells like fresh cucumbers and fragrant juicy honeydew melons! This lotion is light, moisturizing, and perfect for hydration on the go. Our new Airless Pump makes it easy to pump and go all day long! Trust us, once the lotion lover in your life smells this scent, they will be thanking you endlessly for introducing them.
CBD Capsules
Our CBD Capsules are great for the person in your life who's always on the go! Each capsule contains 10mg of CBD, and can be taken anytime & anywhere! They can be tossed into a gym bag or brought along to a long day at the office, which ensures that no matter where the day takes them, they will get their dose of CBD in a quick and easy manner!
Pet Products
Over 85 million families in the United States own a pet… chances are that includes your friends and family!! What's better than to grab some amazing products just for their furry friends!? We carry two pet products, our Pet Hemp Oil Drops and Num Nums Calming CBD Chews! Many people are under the impression that pets only need CBD if they are experiencing ailments, but the truth is that regular CBD use can help to prevent ailments from happening!! With ingredients like Fish Oil, our Hemp Drops are packed with Omega 3's to help promote overall pet health. 
So, no matter the occasion, or who it's for, CBD is a great gift! Not sure where to start?? Make sure to check out our coupons and offers page for deals and freebies!