As CBD continues to explode on the market, the beauty and skincare industry has jumped along for the ride on the cannabis bandwagon. Everyone wants to find that "secret" to amazing skin. We're all just trying to hold on to our youth for dear life (wrinkles stay away!); Healthy Roots Hemp and CBD can be there to help!
Did you know that our skin is the largest organ we have, and like dozens of  other functions in the body our skin is regulated by our Endocannabinoid System (ECS). This means that CBD can be extremely effective when it comes to skincare, if you choose high quality products and use them correctly.
How can CBD help my skin?
As we mentioned, CBD works with your skin's endocannabinoid system. The endocannabinoid system's goal is to keep your skin in a state of balance; the culprit behind most skin issues is an imbalance of some sort. One of the most valuable things CBD does for the skin is it reduces inflammation. Inflammation can result in acne, eczema rashes, and other common skin issues. When the skin is inflamed, using a CBD topical will activate your skin's receptors, and work to soothe and restore your skin's balance. Unlike other skincare products which can just sit atop the skin and be less impactful, CBD truly sinks into the skin to improve it from the inside out.
Here are some things to consider/look for when searching for CBD products to use for skincare
Full Spectrum CBD Oil (FSO): Unlike CBD isolate, full spectrum oil contains other valuable cannabinoids and terpenes in addition to CBD, offering potentially therapeutic and healing benefits by activating our ECS via The Entourage Effect (synergy of all compounds found in hemp).
Ingredients: Like any other product you are putting in or on your body, it's important to look at all of the ingredients listed. Make sure there are no unhealthy additives that might be damaging to you or your skin. Healthy Roots Facial Oil, for example, contains gentle ingredients like MCT Coconut Oil, Grape Seed Oil, Jojoba Oil, Cocoa Butter, and Lavender Oil, which supports healing. Our Root Butter contains soothing Mango Butter, Shea Butter, Vitamin E, and Sweet Almond Oil- to name a few! Our Roller Bomb contains a variety of soothing essential oils as well.
Application: In addition to applying products topically, keep in mind that our bodies heal from the inside out as well. Ingesting phytocannabinoids will also activate our ECS, which as previously mentioned regulates skin cells.
Based on clinical studies and anecdotal evidence, it can't hurt to give our Full Spectrum Hemp products a try for your skin. Enhance your ECS by supplementing this with other things like drinking plenty of water, getting enough sleep, breaking a sweat, and eating the right foods.
Healthy Roots has an extensive line of body care products that our team uses and stands behind 100%. We have even recently had a powerful testimonial from Registered Pharmacist and Cannabis Advocate Victoria Starr, who uses Healthy Roots.
Check out a few of our skincare favs!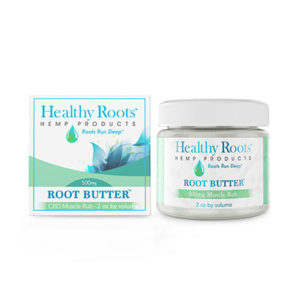 Healthy Roots Hemp Root Butter CBD Muscle Rub- 500mg
Our Root Butter CBD Muscle Rub contains 500mg of total cannabinoids and is one of our top sellers! There are no limits to what this topical can do. Formulated for targeted aches, it is fast-acting and effective, with a 5-10 minute activation time. With this soothing, all natural topical, relief comes in just minutes. It promotes hydration and has all the skin softening qualities your skin deserves.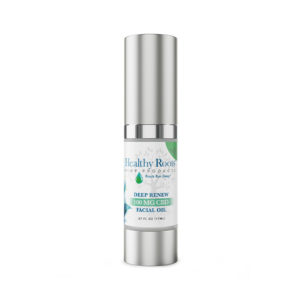 Healthy Roots Hemp Deep Renew CBD Facial Oil – 100mg
Healthy Roots 17 ml CBD Facial Oil
is the product you need for your everyday skin care routine. Containing 100 mg of CBD our facial oil a is 4 in 1, wonderfully blended to help smooth wrinkles, reduce puffy eyes, reduce pimples and alleviate dry skin. Leaving your skin looking radiant and beautiful in just 1 step.
Love the skin you're in, shop our topicals and tinctures, and let us know what you think!
FDA Disclaimer: The statements made regarding these products have not been evaluated by the Food and Drug Administration. These products are not intended to diagnose, treat, cure or prevent any disease. Please consult your healthcare professional about potential interactions or other possible complications before using any product. Keep out of reach of children.