Healthy Roots Product Labs
Healthy Roots Hemp Products are Third Party Tested
We pride ourselves on providing thouroughly tested, verified, batch labeled and transparent products. Below are commonly asked questions about COAs as well as links to our latest COAs for each product. We're in the process of building out this section, if you don't see the product you're looking for, go to the SHOP and click on the product in the shop and you'll see the latest product on the shop. 
Thank you for choosing Healthy Roots Hemp!
Why is third party CBD testing important?
Understanding your formulation by testing your work with a credible lab is key to making a product that is transparent.

Below you'll find lab results from our whole line of products. We take into consideration of all the cannabinoids when accounting the target potency.
We ask the laboratory to report in both a percentage and milligram per gram. That way our viewers can see the difference between the two.

The percentage showcases that we are under the legal limit of .3% for THC. This is important not only for legalities but also for the consumer.

The milligrams per gram helps us understand the total cannabinoids.

As you can see there are many cannabinoids showing in our results, not just CBD. Having the other components is key to effectiveness.
Does Healthy Roots Hemp use third party testing?
YES!
Healthy Roots has taken the extra time to perfect our formulation process. Third party testing is the key to making transparent products.
We use a full spectrum hemp extract oil that has not been refined, while still containing the other minor cannabinoids, which plays a role with the entourage effect. We use a third party lab for that tests for pesticides, metals, lead, solvents, terpenes, microbiology, and potency. All Organic Hemp Flower, Full Spectrum Hemp Oil and Isolate go through this extensive lab analysis.
These Certificate of Analysis are displayed so that you can see what we are providing. We use an ISO/IEC food testing lab that has their ORELAP certification as well as their Ecology Certification.
Why are you updating the way you share COAs?
We're changing the way we display our COAs to protect our customers.  We've been hearing troubling stories about COAs being copied, stolen and faked so to protect our customers from forged, fake or bogus Healthy Roots products our COAs will be published by text only.
We will always provide our customers with verified copies of our testing, labs as well as take the time to explain them to you.  We provide this information for you and your education.
If you would like to request a verified copy of our COAs, just use the request on the product page and we're happy to supply it.  We're doing everything we can to keep our customers safe and this is just one step we're taking to do just that.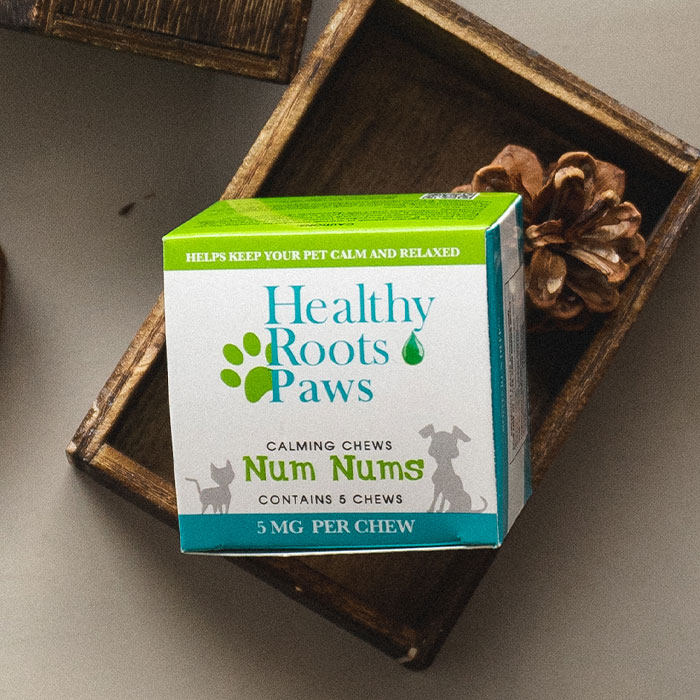 Our 5 mg Num Nums calming CBD chews for pets samples are made with extra natural calming additives like Chamomile, Passion flower and Valerian Root.